From the Worship of Saints to that of the Republic
In 1793, all traces of religion had to be removed from the streets. Revolutionaries considered them to be propaganda weapons that prevented Parisians from making their own decisions. Here, on Montagne Sainte-Geneviève, anything that was a reminder of Sainte Geneviève, the patron saint of Paris, was removed from the public space. Like elsewhere, the word "saint" or "sainte" had to be removed from street names. The street Neuve-Sainte-Geneviève thus became "rue Neuve-Geneviève" (currently rue Tournefort).
To find out more…
Masculine hero-worship!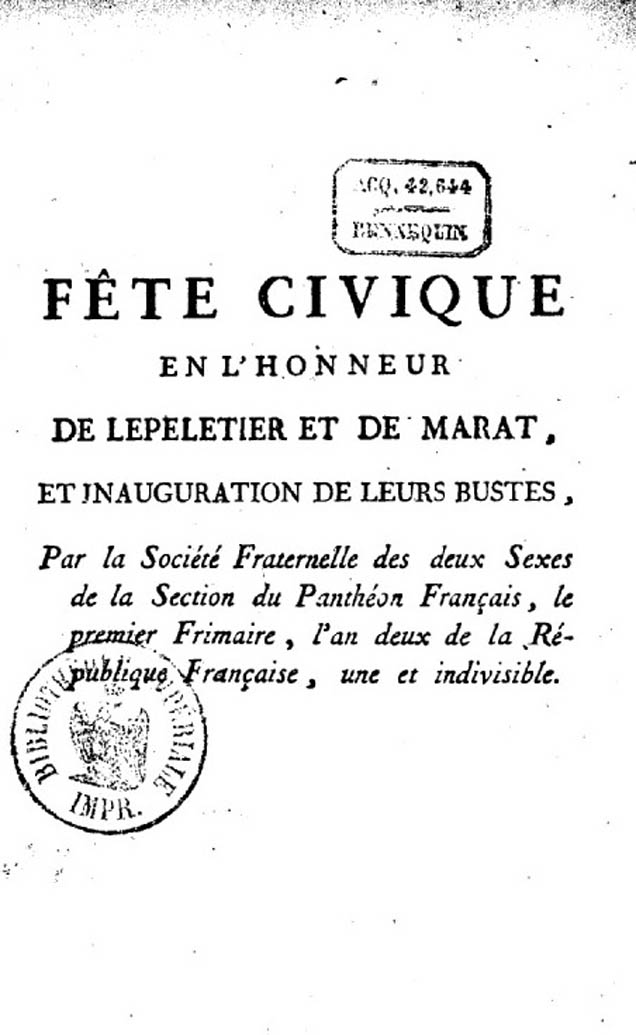 On October 17, 1793, the Museum section of Paris gathered together in order to inaugurate the busts of Louis-Michel Lepeletier de Saint-Fargeau and Jean-Paul Marat. On November 21, 1793, it was the turn of the Fraternal Society of Both Sexes from the Panthéon-Français section of Paris, a club composed of men and women. Assassinated for their revolutionary opinions, these men had become official martyrs of the Republic, honored like secular saints. On this day, the speaker presented them as "athletes of freedom," who were to be used as models for the citizens of the neighborhood. To the women who were surprised to only see two men, the speaker responded: "do not be envious of this honor. First and foremost, it is up to us to fight in the stands and on the battlefield, and therefore it is up to us to die."