The Statue of Henri IV: The Revolutionaries' Favorite King!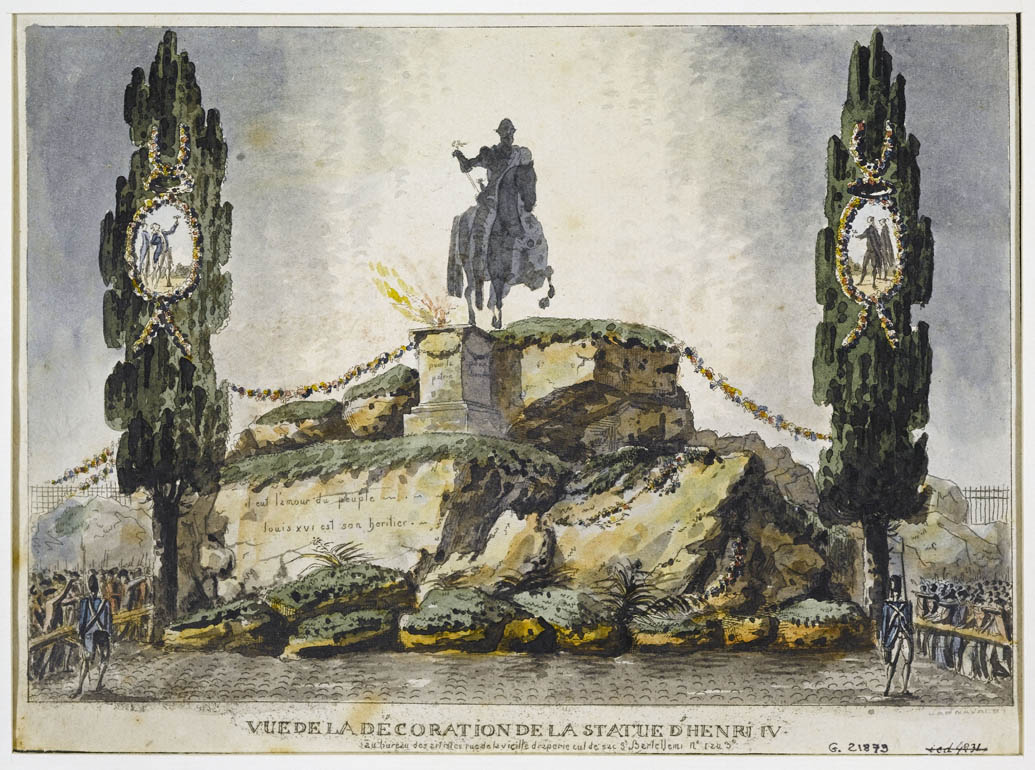 Before 1789, the Henri IV statue was the gathering point for those who were called "patriots" and fought for liberty. Considered a moderate, given that he had reconciled the French after the Wars of Religion, Henri IV was honored as a model king, one whom Louis XVI should use as an example. The statue was even decorated during Revolutionary celebrations. However, after the fall of the monarchy (August 10, 1792), it was knocked down, destroyed and replaced with a monument depicting the Tablets of the Rights of Man. No king was pardoned in the eyes of the sans-culottes. A new statue of Henri IV was erected on the bridge in 1816.
To find out more…
Protests on the Pont Neuf
In August 1788, several hundred insurgents protested and set off firecrackers around the statue of Henri IV. Parisian youth and the world of the Basoche (legal clerks) were then staunchly opposed to the reforms of Loménie de Brienne, who tried to place the legal system under royal power: an effigy of Louis XVI's head minister was hung on the Place Dauphine and, on August 29th, the guardroom that was then located here was burned down.
Henri IV, protector of the Revolution?
In 1792, right in front of the pedestal, an enlistment office was set up for volunteers who were ready to leave for war. Consequently, the king on horseback became the symbol of a nation mobilized in the name of freedom…
All traces of the monarchy need to be erased!
On August 10, 1792, Louis XVI and his family were arrested. The monarchy had fallen. Starting the next day, the most radical revolutionaries destroyed the statues of the Kings of France. Personality worship was no longer tolerated. Every trace of the Ancien Régime needed to disappear from the public space. The statue of Henri IV was thus removed from its pedestal, like those of Louis XIII (on the current Place des Vosges), Louis XIV (currently Place Vendôme and Place des Victoires) and Louis XV (now Place de la Concorde).