The Tollgate and Columns on the Place de la Nation
Why was the Place de la Nation called the "Throne Gate?" In 1660, two thrones had been placed there to celebrate the triumphal arrival of Louis XIV and Marie-Theresa of Austria. In 1789, the columns were not simply decorative elements: 28 meters high, they showed travelers the location of the tollgate where they would have to pay a tax if they wanted to bring their merchandise through the Saint-Antoine neighborhood. On each side of the column, two symmetrical buildings were used by toll agents. Hated by the people, most of the tollgates and offices were destroyed during the Revolution or the 19th century.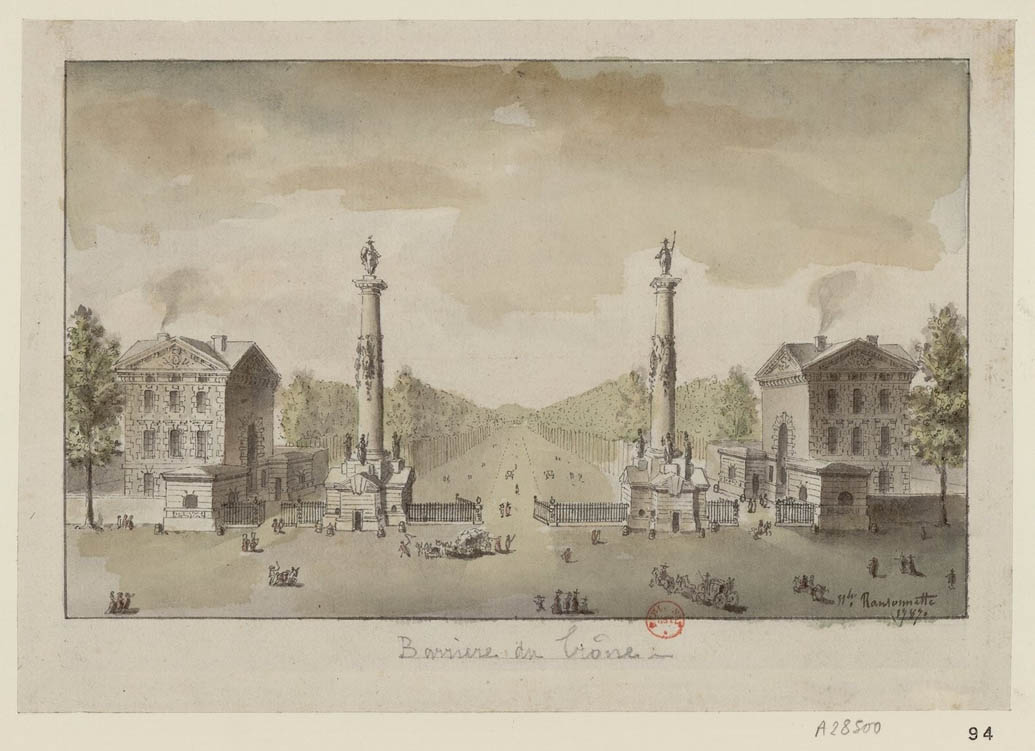 To find out more…
A site for drama and celebrations
During the Revolution, the Throne tollgate was a site for drama and celebrations. On February 25, 1790, a popular uprising against the excise tax was severely repressed; a month later the tax would be removed altogether. On April 15, 1792, like this image shows, the procession in honor of the Soldiers of Châteauvieux, who were executed by a firing squad or sent to the galleys two years earlier for having demanded their rights, started from here. In 1794, the story of the Republican armies' many victories were sculpted onto the columns. Obviously, it was long after the Revolution, in 1845, when they would be mounted with the statues of Louis IX and Philippe Auguste, which still tower over the square today.